Release the Great Singer within You with Vocal Excellence
Do you sing in public?
Would you like to?
Do you know that you can sing better?
Are some things holding you back, some things that you know you need to fix?
(Check out our singing FAQs for some common problems and solutions.)
If so, Vocal Excellence, my problem-solving eGuide, is exactly what you need to get started. It only costs five dollars (although it is FREE when you order the e-book Singing Excellence), and it can save you hundreds or more in voice lessons. Vocal Excellence shows you concise, practical and powerful ways to destroy the obstacles that limit your voice.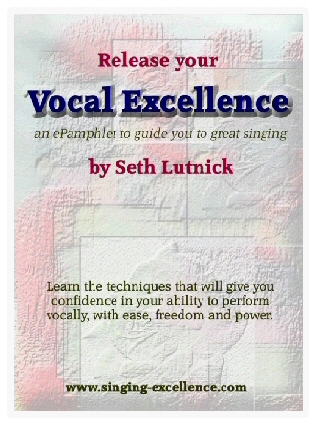 Do you have any of these problems?
Do you run into trouble trying to sing high notes?
Does your voice get hoarse or raspy too quickly and too often?
Are you not able to sing loud enough?
Do you have a clear tone or is it too breathy?
Do you find yourself with no power on low notes?
Do you get tired too quickly?
Solutions for these and other vocal problems are the goal of this eGuide. There are many comprehensive vocal courses and systems available on the Internet. I wholeheartedly endorse them, especially the acclaimed Singorama system. If you're looking for a start-to-finish vocal training program, click here to explore Singorama.
Vocal Excellence is a quick, powerful guide to solving problems today. It will help you conquer vocal problems with specific techniques and exercises. It will get you started on the road to singing excellence, or will get you back on that road if you've developed limiting habits. For only five dollars, you will gain the techniques that I have continually used to improve my voice, both range and power, as I continue developing my singing career. But wait, if you order my power performance method e-book, Singing Excellence, you'll get a copy of Vocal Excellence ENTIRELY FREE. Click here to do it now.
Many guides will give you tons of vocal exercises and warmups to do. Again, Singorama is the best of these, and you will grow tremendously from it. My goal in Vocal Excellence is to provide immediate solutions that I use continually. I give you a great half-hour vocal warmup which you should use at least three times a week, and will prepare you physically, and vocally, for great singing. Click here to get your copy of Vocal Excellence. Remember, Vocal Excellence is YOURS FREE, if you order the performance powerhouse e-book, Singing Excellence, for only $17.
Singing Excellence and Vocal Excellence
Being able to make amazing musical sounds is only part of singing excellence. The real magic lies in the feeling, in the interpretation. In my work in musical theater, both as a performer and as a director, I have seen time and again the incredible improvement of singers and actors as they use these techniques.
This comprehensive e-book is based on my years of training on Broadway, my many concert and cabaret performances, and my work as a musical theater director. Singing Excellence contains within it all you need to know about song interpretation, as well as a vocal technique approach. I felt it appropriate to write an additional eGuide enlarging the vocal technique aspect.
Singing Excellence and together with Vocal Excellence will give you so much! Vocal Excellence is FREE, when you order Singing Excellence. If you just want this amazing problem-solving vocal guide, click here - a STEAL - at five dollars!